"Blasphemous Music"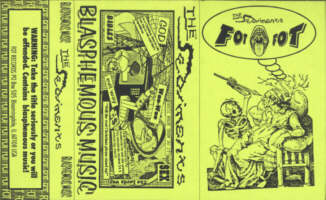 "Blasphemous Music" was conceived as a 30 minute cassette in 1989. It was a direct result of a workmate of Pink Bob's who had a nasty habit of evangelizing with the worst form of rabid neo-fundamentalism that was popular during the Reagan/Bush years. He particularly enjoyed lashing out at the "Secular Humanists", and his chief source of inspiration was the oft-quoted "Reverand Falwell".
Initially, work started with the handfull of ideas Pink and Brian had generated in their few sessions together during 1987-1989 when Brian was living an hour away and recording was infrequent. As work on the project progressed, however, Brian's worsening depression and increasing lack of interest in music meant he only contributed one new song to the project (which he then declined to actually play on!) The tape was scaled back to a C-20 EP-length cassette--the fabled "lost" 10 minuetes not only weren't recorded, they weren't even written--and guest musicians were relied on to fill in here and there for parts that were originally slated for Brian.
This is not to say that the recordings weren't inspired, they simply took forever. In spite of the fact that Brian lived next door to Pink at the time, it sometimes took three months to coax him over to the Sedistudio in order to lay down a spoken vocal or a guitar. At the end of what could only be described as a tedious two years, Home Recordings owner Steve Rubin had moved the label up to Chicago and focused his efforts on the twin label Fot Records and its "Passed Normal" compilations. By the time "Blasphemous Music" was finally finished, Home Recordings had been put on hold and all pending cassette releases were shelved.
An initial version of the cassette was made in limited quantities in 1991, which went mostly to a handfull of die-hard Home Recordings fans and as promotional items. A repackaged version appeared in 1992 which was finally offered to a wider audience, but sales were still lackluster.
Six years later, the entire "Blasphemous Music" EP was remastered from the original stereo mixes and included as bonus tracks on the excellent Capitalism, Inc. 1998 CD-R on Home Recordings. To this day, The Sediments play a majority of the tunes from this impressively potent collection of atheist rants in concert.
SIDE ONE: "Blasphemous Medley"
Mutton Stew (Pink Bob)
Intimate Lightning (Scott Lucas/Brian Keys/Pink Bob)
Ass Soul (Pink Bob)
Onward (Brian Keys/Pink Bob)
S.L.P. (Pink Bob/Brian Keys)
SIDE TWO: "More Blasphemy"

Old Man Campo Santo (Pink Bob)
Jimmy Swaggart's Dick (Brian Keys/Pink Bob)
The "N" Word (Brian Keys with Scott Lucas/Pink Bob)
Musicians:
Pink Bob Vocals, Keyboards, Drum Machine, Sequencing, Guitars, Bass, Tapes
Brian Keys Bass, Vocals, Guitars, Tapes, Keyboards, Sequencing
Tommy O'Donnell Guitars, Effects
Scott Lucas Keyboards, Drum Machine, Vocals, Guitars
James McMannus Trumpets
Shawn Freed Vocals
Nancy Retterer Vocals
Produced and Engineered by Pink Bob with Brian Keys.
Recorded and Mixed at the various Sedistudios between 1987 and 1991.
Mastered by Pink Bob at Sedistudio Lexington.
Packaging design and layout: Pink Bob (original version); Eric Ton (repackaged version).
Management: Steve Rubin.