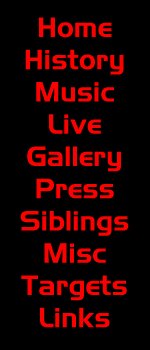 FREE Sediments mp3 files!
Email us: sedimail@thesediments.com
NEXT GIG:
Live with Buttertown, Saturday, Nov. 29, 2003, 9:30 PM
At The Illinois Brewing Company
Corner of Front and Center Streets, Bloomington IL.
While The Sediments have garnered some acclaim as studio artists over the years thanks to their various releases (including their association with Tiny Tim and the excellent "Passed Normal" compilations), less is known about their history as a live band. During the early years of 1985-1987, The Seds performed at numerous Home Recordings functions, most notably opening for Fred Frith and Tim Hodgkinson of Henry Cow fame for a pair of gigs in Bloomington-Normal, IL and Champaign-Urbana, IL. In those days, the band was a fluid mixture of musicians constantly going on and off stage to approximate the line-ups found on the studio recordings.
Due to various circumstances, the band ceased live performances until 2000, when the quintet of Pink Bob, Matt Seniff, Tom Sparrow, Ken Thornton and Clay Thompson hit the stage for two performances in one evening. Clay left the band two weeks later. Charlie Weeks quickly filled the void, and with the exception of Matt's departure in 2002, the line-up has been stable and the band has been doing occasional live performances ever since.
If you want to hear The Seds live, though, you'd better be willing to travel to Illinois. With the exception of a gig in Joliet in 2002 and in Champaign in 1986, all of their live performances have been in McLean County...
Personnel
Pink Bob
Lead Vocals, Keyboards, Rhythm Guitar, Kazoo

Co-founder and sole surviving original member of the band, Pink was initially a reluctant vocalist and a former victim of severe stage fright. But you wouldn't know it now. These days, he seems perfectly at home delivering slabs of keyboards and torrents of vocals in front of a swaggering satirical rock 'n' roll band. As the main songwriter since the early days of the band, a typical live show these days centers around his penchant for political and cultural satire. In addition to The Sediments, he also plays with Buttertown and The Dits.

Ken Thornton
Lead & Rhythm Guitars, Vocals, Kazoo

Ken was recommended by Sediments studio contributors Trefan Owen and Tommy O'Donnell--independently--within a span of just a few weeks in 1999. Luckily for The Sediments, he was intrigued enough to join up! Armed with a vast vocabulary and a keen ear, he oftentimes sounds like multiple guitarists. In addition to everything else, "Sir Ken" posesses the ability to channel virtually any guitarist--living or dead--through his rig at will. In addition to playing with The Seds, you can also catch him (if you're extremely lucky!) playing with The Rutles, Neil Innes, and Von Frickle.

Charlie Weeks
Bass Guitar

With their third bassist in less than a year, The Seds knew they had the right person when Charlie joined up in the summer of 2000 and emphatically provided a "bottom" that had previously been lacking. In addition to being an all-around great guy, he can adapt to any style of music--from free improv to cheesy tangos and marches to brutal rock 'n' roll slaughters. In other words, he's right at home in the twisted world of The Sediments! Charlie is also responsible for making sure the rest of the band gets out of the studio long enough to get up to Chicago occasionally to catch some unusual live music!

Tom Sparrow
Drums, Percussion

As a band-mate of Pink's in the mid '90s in The Swingin' Hemphills, Tom had proven his abilities with various '70s-era rock styles. Long before that, though, Tom had been working on an endless array of approaches to drumming, making him the obvious choice as a flesh-and-blood replacement for lame drum machines and Acid loops in 1999. While The Seds don't often make use of gratuitous meters such as 27/8 over 14/4, they do regulary turn their backs on convention, and there are a number of unusual tempo shifts. Without Tom, these quirks would more than likely resemble train wrecks most of the time...