"Liars, Cheats and Acid Freaks"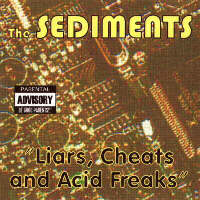 This wasn't supposed to happen. The band had been dormant for about four years, and Pink had sworn that it was more trouble than it was worth (witness the two-year timeline that was budgeted for "Blasphemous Music", only to see the project shelved for another two years!) The also-shelved "I Love Me" starring 60s legend Tiny Tim was completed and finally released, and Pink Bob declared that this would be The Sediments' swan song.
Then he started recording with Matt Seniff.
Switching over to digital multitrack for the first time, Pink and Matt layed down a few tunes and there was no mistaking the embryonic stages of yet another version of The Sediments. Rather than fighting it, Pink and Matt both resigned themselves to a year in their home studio with all their new software. This included the wonderful loop-based ACID program from Sonic Foundry that was used to build the skeletons of over half of the songs.
At times, this recording sports about 32 tracks worth of layered Sedimental music in all of its glory. In spite of the years off (or perhaps because of them!) Pink Bob's lyrics are brilliantly brutal, lashing out with torrents of satire at the religious and political right on a global scale. Musically, the masses of guitars serve as a total about-face from the heavily sequenced and synthesized efforts of the band's previous incarnations. With the help of a few friends, they produced the slickest Sediments project to date and provided the groundwork for the new live performance bands that would follow (please visit mp3.thesediments.com for live recorings!)
In addition to being to being an impressive release in its own right, "LCAF" marks a transition in the life of The Sediments, with echoes of their previous music and hints of what they've been working on ever since. The follow-up CD, "American Cheese", will be available sometime in 2002...
---
Sax in the Oval Office (Pink Bob)
Zip-Zip (Pink Bob)
Uncle Thomas (Matt Seniff/Pink Bob)
The Flying Fickle Finger of Fate (Pink Bob/Trefan Owen)
Bible Rain (Pink Bob)
Memory Court (Pink Bob)
Sorry Charlie (Pink Bob)
Taliban (Pink Bob)
Mhwa H'sui (Pink Bob/Matt Seniff)
A Waste of Time (Pink Bob)
Y (Pink Bob)
Acid Freaks (Matt Seniff/Pink Bob)
The Worms (Pink Bob)
Machines (Mort Schuman)
The Positive Song (Matt Seniff/Pink Bob)
The Bell Tolls for Cranky (Cranky the Computer)
Musicians:
Pink Bob (All Lyrics; Voices; Acid; ARP Quartet Synthesizer; Rhythm, Mike-like, e-bow and CHiPs guitars; Bass; Vibes; Trumpet; Ukuleles; Sound Efx; Percussion; Vocoder; Sousaphone; Saxocorder; Canned Material; Theremin; Whips)
Matt Seniff (Acid; Rhythm, Slide, Lap Steel and Bundle Guitars; Bass; Effects; Autoharp; Percussion; Cello; Backwards Voices; Coffee!)
Tony San Filippo (Congas; Snare & Cymbals; Vibes; Water Bottle; Percussion; Noises; Acid Pusher)
Tommy O'Donnell (Stunt, Blister and Arpeggioso Guitars; Effects; Cat Abuse)
Trefan Owen (Jazz, Q-Tron, and Pseudo-Bass Guitars; Cryptography)
Produced and Engineered by Pink Bob with Matt Seniff and Tony San Filippo.
Recorded and Mixed at Sedistudio Lexington.
Mastered by Pink Bob.
Band photography: Shawn Harper, T.J. Seniff, Pink Bob, Matt Seniff
Packaging design and layout: Pink Bob.