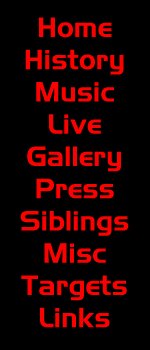 FREE Sediments mp3 files!
Email us: sedimail@thesediments.com
"Greatest Fits (1985-1999)"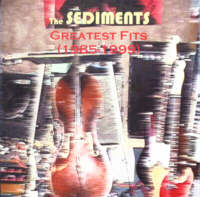 "Greatest Fits (1985-1999)" is a compilation CD available exclusively from mp3.com that features The Sediments' best satirical songs and rants from throughout the years. Special attention is paid to the topics of religion, politics, and the modern American way of life. While there are no "bonus" tracks or rarities included in this collection, it is a wonderfully-paced offering that successfully ties together the first fifteen years of the band's various projects and directions.
Musicians:
Pink Bob (all tracks)
Matt Seniff (1, 2, 4, 8, 10, 11, 12)
Tommy O'Donnell (1, 2, 3, 5, 7, 8, 9, 12)
Brian Keys (5, 7, 13)
Tony San Filippo (1, 8, 12)
Scott Lucas (7, 13)
James McMannus, Shawn Freed, Nancy Retterer (7)
Edwin Pierce, Rob Reed, Michael Goodrich (13)
Mike Williams, Darrell Williams, Gary Hicks, Shawn Samii, Kurt Kelly (6)
All lyrics by Pink Bob.
All music by Pink Bob execpt:
"Uncle Thomas" by Matt Seniff
"Blasphemous Medley" by Pink Bob/Brian Keys
"Lead a Horse to Water" by Brian Keys
All tracks produced by Pink Bob.
Original recording engineers: Pink Bob, Matt Seniff, Brian Keys.
Remix engineers: Pink Bob, Willie Wells, Matt Seniff.
Mastered by Pink Bob.
Front cover photo: Matt Seniff.
Band photography: Shawn Harper, T.J. Seniff, Pink Bob, Matt Seniff
Packaging design, layout and digital photo manipulations: Pink Bob.